Welcome to this week's newsletter from Zimmer and Peacock. This newsletter is a mixture of news, stories and tech notes from Zimmer and Peacock. If you want to subscribe to our newsletter or have any questions regarding Zimmer and Peacock and our passion for biosensor technologies please don't hesitate to contact us.
Smart Sensors for Drug Testing (Cannabidiol detection)
Zimmer and Peacock is sponsoring a research Masters project to develop a novel, smart electrochemical sensor technology for the detection of Cannabidiol (or CBD), a prescription drug. Using the state of the art facilities at Swansea's Centre for Nanohealth, the MSc scholar will work with top research scientists and academics to develop sensors for testing and purity quality control.

Joining PalmSens to Micrux
At Zimmer and Peacock we distribute both Micrux and PalmSens as we believe in the best technology for the problem that is being investigated or solved, sometimes this is a combination of parts from both companies.
In this image we have shown all the parts necessary to go from a MUX8 to a Multi8x-AIO.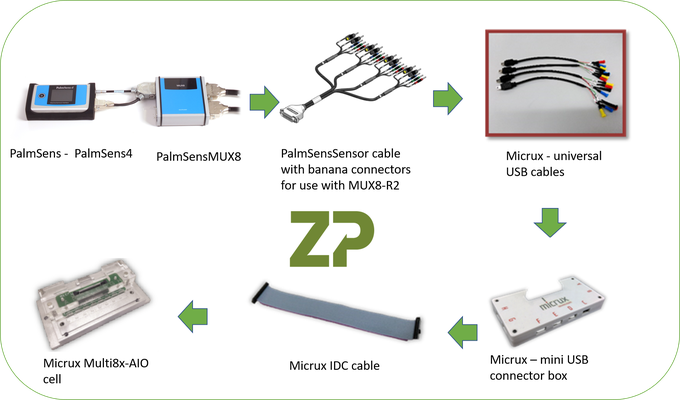 See our labs and rapid prototyping
Please watch this video to have a peek behind the scenes at Zimmer and Peacock.
Zimmer and Peacock is a world leading contract biosensor and medical diagnostics company for wearable biosensor, sensors and medical diagnostics, the video shows some of our rapid prototyping services.
Signal as a function of SPE
In the experiments on our website here, Zimmer and Peacock shows the data recorded on a number of our screen printed electrodes - SPEs. Zimmer and Peacock are experts on screen printed electrodes (SPEs), electrochemistry and electrochemical sensors so if you have any questions please don't hesitate to contact us.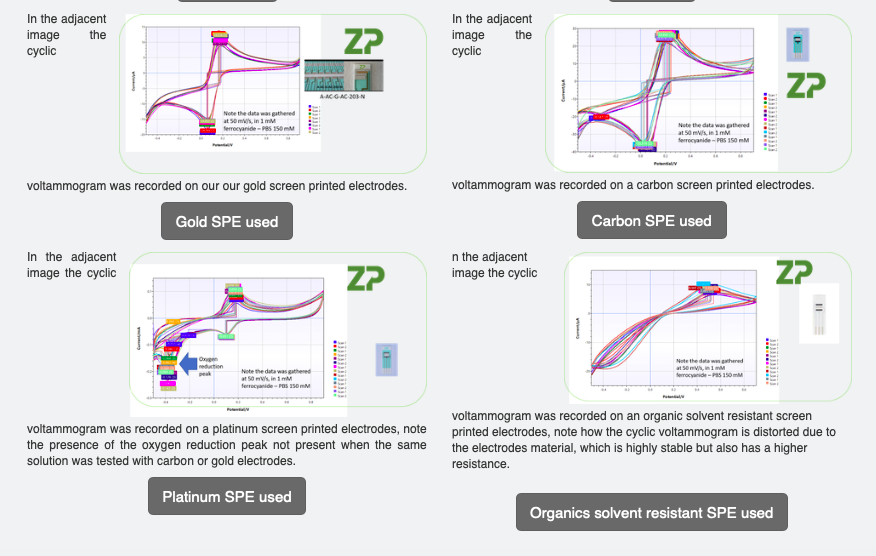 Choosing an SPE
Zimmer and Peacock is focused on helping our clients and partners get to marker ASAP with electrochemical sensors suitable for field applications.
For a screen printed electrode to be commercially successful in the field the following FEATURES are important.
1. FEATURE ONE - The sensor must have the potential to be low cost, so to ensure the highest margins.
2. FEATURE TWO - The sensors have to function correctly.
3. FEATURE THREE -The sensors should operate at a low power, with simpler electronics.
It is with these FEATURES in mind that ZP has started to promote the 'value range' over our first generation of sensors and electrodes. Find out more on our website here.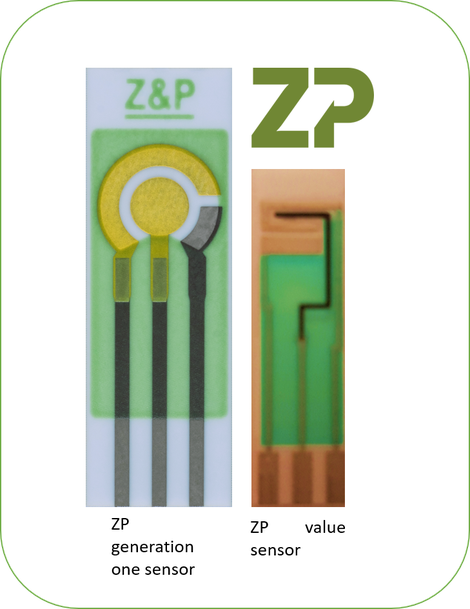 ZP Team at Made in Horten
Zimmer and Peacock AS is Norway's leading contract biosensor, wearable biosensor and medical diagnostics company providing contract development and manufacturing services, alongside our standard products.
This week we were showing our technologies and capabilities ranging from exhaled breath collection to the hotness of chilli sensing at the Made in Horten show.