Exhaled breath condensate and exhaled breath collection has become of increasing interest to academia, the clinical field, the medical field and the veterinary field; as many researchers and developers understand that the last great unexplored sample matrix in the medical sciences is the breath vapor. 
Historically breath condensate collection has been difficult as the equipment is very laboratory centric with patients and volunteers expected to perform forced breath maneuvres for up to 20 minutes in order to collect some millilitres of breath condensate. The most interesting and clinical relevant breath samples are often from patients who may have chronic diseases and are not capable of these efforts.
G1 Exhaled Breath Condensate Collection Device
Zimmer and Peacock have launched the G1 Exhaled Breath Collection Device for collecting exhaled breath condensate.
The G1 collects exhaled breath condensate, and is the fastest most efficient collector of breath condensate, with the user only having to perform normal tidal breathing.
Spec:
- Collection time : 60 sec
- Collection sample volume: > 4uL for 60sec
- Operating temperature : 
G1 License
The G1 Exhaled Breath Collection Device is a multi-patent protected hardware for the collection of breath through normal tidal breathing. 
By joining the G1  beta programme, the member receives hardware and a license to the apply the hardware for breath born analyte studies as part of a R and D effort.
I return for the license the member licencee agrees to share their data with ZP and ZP retains the first right of refusal to commercialize the analyte and applications developed by the licensee. 
Please note the licensee expressly excludes the licensee   from using the G1 technology and license for the detection of hydrogen peroxide on the breath  or SARS-CoV-2 on the breath.
ZP would love to hear from anyone interested in measuring glucose on the breath.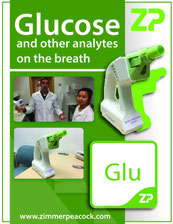 G1 -Exhaled breath condensate collector
This webstore product is only for exhaled breath collection, and is not activated to run electrochemical biosensors
Available
Generally ships within 3-4 weeks
Exhaled breath condensate cartridges
These are the semi-disposable microfluidic cartridges
Available
Generally ships within 3-4 weeks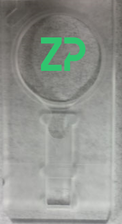 G1 -License - 12 month license
This 12 month license allows the licensee to operate the G1 technology for the collection of breath condensate and it's subsequent analysis.
Available
Generally ships within 3-4 weeks