Welcome to this week's newsletter from Zimmer and Peacock. This newsletter is a mixture of news, stories and tech notes from Zimmer and Peacock. If you want to subscribe to our newsletter or have any questions regarding Zimmer and Peacock and our passion for biosensor technologies please don't hesitate to contact us.
At ZP we love shipping products
Welcome to Jens the latest member of the every expanding ZP team.
Jens is here to make sure that our ever increasing list of ZP clients and customers are kept happy by ensuring order are tracked all the way through to delivery.
Zimmer and Peacock is the World's largest contract development and manufacturing biosensor and medical diagnostic development team.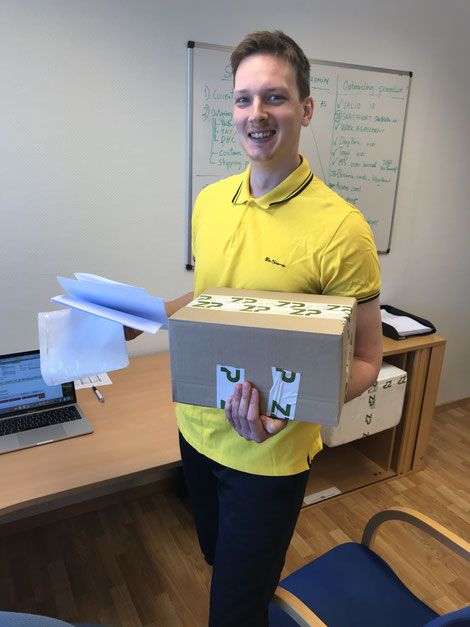 Digital Diabetes Congress
Zimmer and Peacock are the world's leading Contract Continuous Glucose Sensing Development and Manufacturing Company. We are attendees of the many Diabetes Technology Society Meetings, so we were delighted to be attending the Diabetes Digital Congress on the 22-23 May 2018.

Sign conventions in electrochemistry
If you are reading this page you have probably stumbled across it because you are confused by the sign conventions in electrochemistry.  Firstly you are not alone, so many people who are trying to look at electrochemical data are slightly bewildered, including us electrochemists.
The reason for this confusion is because whether you are interested in: electronalaysis, biosensor, batteries, fuel cells, capacitors, electrolysis etc you have a different perspective on whether a current and voltage should be displayed with a positive or negative sign.
We had an enquiry recently based on this confusion and you can find out more on our website here.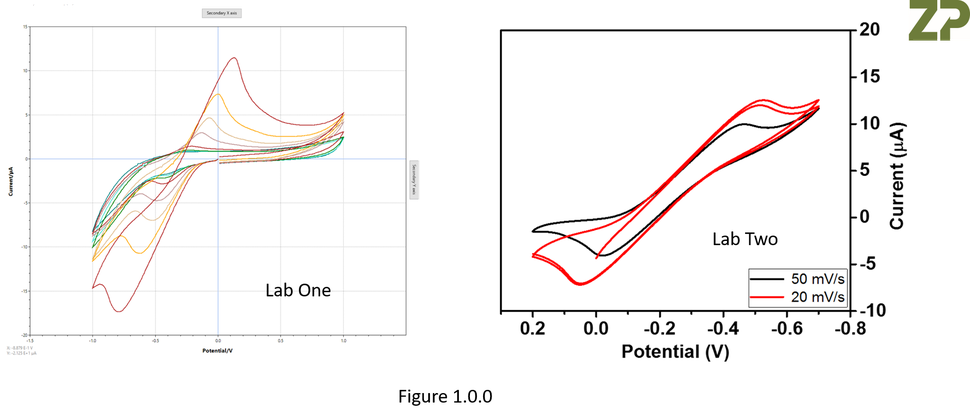 Bioinspired detection sensor based on functional nanostructures of S-proteins to target the folate receptors in breast cancer cells
Zimmer and Peacock were delighted to be authors on a recent paper for the detection of cancer cells.
ABSTRACT
Development of biosensors requires a well-organized template to enhance the sensing specificity. Biolog-ical molecules that have the ability to self-assemble into ordered structures can be exploited to construct nanostructures and nanodevices. In this regard, bacterial surface layer proteins (SbpA) have been used as an underlying matrix to bind molecules on the nanometer scale. The present study provides evidence that a gold substrate functionalized with folate-modified SbpA can be used as a sensor for breast cancer cells with superior efficacy over traditional sensors. The developed sensor uses folate to recognize folate receptors, which are highly expressed on the cell membranes of some cancer cells, such as breast cancer cells. To examine the specificity of the developed sensor, folate was used as a binding partner for folate receptors on breast cancer cells (MCF-7), and liver cancer cells (HepG2) were used as the control because they lack folate receptors. The fabricated biosensor comprised a gold surface and are crystallized S-layer protein lattice functionalized with folate and addressed acoustically and electro-chemically. Acoustic studies performed using quartz crystal microbalance with dissipation monitoring(QCM-D) showed the efficiency of the developed biosensor in distinguishing between MCF-7 and HepG2 cells. Despite the ability of QCM-D to recognize cells in situ and in real-time, this biosensor had a limited detection range (1 × 105cells/mL). To confirm the functionality of the developed platform, electrochemical measurements were performed and the obtained results were in agreement with the acoustic sensor and proving the efficiency of the designed sensing layer. The S-layer lattice-folate modified biosensor provides a promising strategy for designing efficient sensing platforms that can be used to diagnose early stage cancers with highly expressed folate receptors.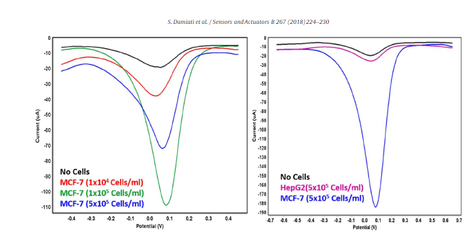 ZP - Hepatic Oval Cell Detection
Zimmer and Peacock were delighted to be co-authors on a recent publication Embedded Disposable Functionalized Electrochemical Biosensor with a 3D-Printed Flow Cell for Detection of Hepatic Oval Cells (HOCs).
Zimmer and Peacock are suppliers of biosensor and sensor technologies, if you have any questions please don't hesitate to contact us.