Welcome to this week's newsletter from Zimmer and Peacock. This newsletter is a mixture of news, stories and tech notes from Zimmer and Peacock. If you want to subscribe to our newsletter or have any questions regarding Zimmer and Peacock and our passion for biosensor technologies please don't hesitate to contact us.
Why so many electrode geometries from Zimmer and Peacock?
We are often asked why we have so many geometries of electrodes in our standard product line. The answer is we are trying to make it as quick and efficient for our customers to find a electrode geometry that works best in their application.
To find the ideal electrode geometry and material, it's best to speak to the scientists and engineers at Zimmer and Peacock, but below we have listed some questions we may ask:
1) How are you going to add the sample to the electrodes, dipping the electrodes, pipetting onto the electrode or flowing onto the electrode?
2) Are you interested in having a planar diffusion to your electrode or edge effects, or are you not sure?
3) Are you trying to functionalize the electrodes?
4) Are you interested in understanding the size effect of your electrodes?
5) Are you interested in coating the working electrode but not the counter electrode? 
6) Tell us more about the application so we can recommend materials and geometries
There are lots of ways of finding the answers to your questions at Zimmer and Peacock including contacting us or exploring our website.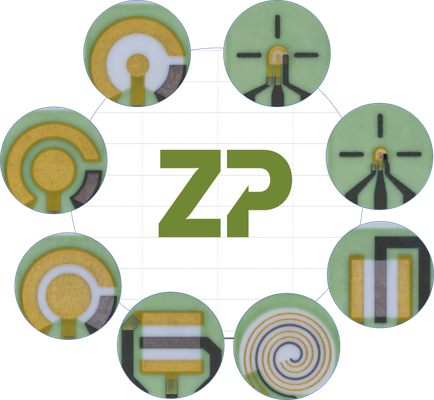 Commercializing Sensors for Environmental Monitoring
Zimmer and Peacock are giving a talk in Birmingham UK on how to commercialise sensors for Environmental Monitoring.

5th International Symposium on Sensor Science
Zimmer and Peacock are exhibiting at the 5th International Symposium on Sensor Science.
From robots and self-driving cars to on-site medical diagnostics, the exciting advances in today's technology require sensors. Biologists, engineers, physicists and chemists are working to provide these sensors. This conference, supported by the journal Sensors, brings together scientists from different areas to discuss important recent developments in sensor technology. The conference format is designed to promote plenty of interaction between scientists and engineers from different disciplines. This is an opportunity to discuss important breakthroughs in sensor technology and related fields; broaden your knowledge, meet sensor scientists from other areas and perhaps develop new mutually beneficial collaborations.
We will be focusing on our sensor and biosensor products and services.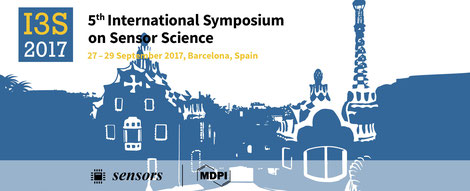 Electrochem 2017 Birmingham UK
The Electrochem 2017 annual meeting is organised by the Electrochemistry, and Electroanalytical and Sensors Interest Groups of the RSC, and the Society of Chemistry & Industry (SCI). In 2017, it will also include the 58th Corrosion Science Symposium, the annual meeting of the Institute of Corrosion (Corrosion Science Division).
The Corrosion Science Symposium has been held annually since its launch in 1960 by Prof. L.L. Shreir. It is an ideal opportunity for students and young researchers in corrosion science from across Europe to congregate, discuss their work, share ideas and, above all, enjoy themselves in a stimulating environment. Contributions are invited in all areas of corrosion science and engineering.
Electrochem 2017 will be held at the University of Birmingham, Sunday 10th - Tuesday 12th September. At the conference Zimmer and Peacock will be focusing upon the Zahner Products.

Free Webinar - Running businesses using Cloud Video Conferencing
Martin Peacock of Zimmer and Peacock will be part of a CeeLab Cloud Video Conferencing Webinar hosted at 9:30 AM BST 23 June 2017.
The Webinar is a customer's perspective on how Cloud Video Conferencing makes modern business both possible and efficient. It is intended for anyone who thinks that  face-to-face meetings that effortless take place on-line will  speed up communication and make meeting more efficient.
Topics covered include:
- Managing a multi-site buisness across two continents.
- How we use video conferencing.
- Features of Cloud Video Conferencing: Screen sharing, Hardware, Ease of use, Mobile, Professional, YouTube Streaming, Recording, Quality.
Hear why Martin's love of Cloud Video Conferencing is because it makes business better.
Upgrading the Zimmer and Peacock biosensor printers
This week the Zimmer and Peacock engineers upgraded the vision systems on the Zimmer and Peacock biosensor printers.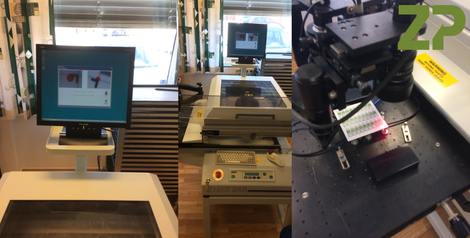 Zimmer and Peacock roll out CeeCloud Virtual Meeting Rooms
Zimmer and Peacock have rolled out CeeCloud Virtual Meeting Rooms across the business. These Virtual Meeting Rooms mean that our clients and collaborators can meet us from anywhere at anytime and see, speak, and share content with us.
At Zimmer and Peacock we understand that ease of communication when discussing complex programmes involving biosensors and medical diagnostics requires easy communication. That is why every person at Zimmer and Peacock is equipped with a Virtual Meeting Room from CeeLab, into which up to 50 delegates can access for a high quality online meeting.
If you have a biosensor or medical diagnostic program please feel free to contact us and effortlessly meet us online in our virtual meeting rooms.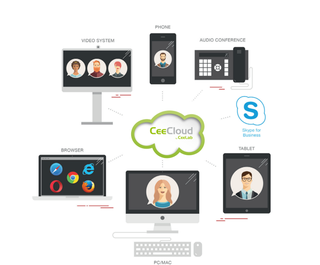 Sensors for Test, Measurement and Control
Zimmer and Peacock will be attending Sensors for Test, Measurement and Control on the 26 September 2017 at the NEC Birmingham.
Zimmer and Peacock are very different from many of the attendees and exhibitors as our focus is biosensors and sensors of an electrochemical nature.
If you would like to meet with us and have a coffee and discuss our standard products and services please feel free to contact us.