Welcome to the 3D printed microfluidic solutions page from Zimmer and Peacock On this web page we have brought together the information from Zimmer and Peacock regarding printing microfluidic solutions for biosensor developers.
In order to fabricate these 3D printed biosensors you will to follow the three steps below.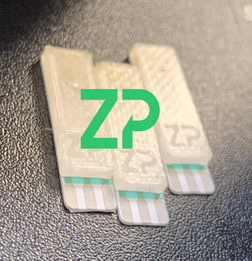 STEP ONE
You will require a ZP Hyper Value electrode, we recommend starting with a pack of 200 screen printed electrodes (SPE), part number ZPS HYP-000-00150. Please click the adjacent image.
STEP TWO
You will require the ZP adhesives for screen printed electrodes.
STEP THREE
You will require a 3D printable STL file.