Welcome to this week's newsletter from Zimmer and Peacock. This newsletter is a mixture of news, stories and tech notes from Zimmer and Peacock. If you want to subscribe to our newsletter or have any questions regarding Zimmer and Peacock and our passion for biosensor technologies please don't hesitate to contact us.
ZP – Bio-sensing Technology Malaysia
Zimmer and Peacock is exhibiting at Bio-Sensing Technology in Kuala Lumpa Malaysia 2019.
About the conference – 
Bio-sensing technologies are of growing importance in healthcare, agri-food, environmental and security sectors, and this is reflected in the continued growth of global markets for such technologies. Connectivity with the wider-world through the internet and the demand for data to drive big-data applications are other important drivers of bios-sensing technology development. This conference will provide a forum for accessing the most up-to-date and authoritative knowledge from both commercial and academic worlds, sharing best practice in the field as well as learning about case studies of successfully integrated bio-sensing technologies.
This year the conference will have one theme dedicated to bio-sensing technology for the internet-of-things and a post conference meeting with a particular focus on applications addressing challenges in telehealth and diagnostic. 

ZP launches new website for 2019.
Zimmer and Peacock has undergone substantial growth in 2018 and in preparation for further growth in 2019 we have launched our new website.

Using field data to refine and finish your sensor biosensor and medical diagnostic
ZP is a world leading contract developer of sensors, biosensors and IVDs. In this note we discuss a strategy ZP can use on your programs to accelerate the time it takes to get to to market. The strategy discussed on our website here works in a number of businesses and technical scenarios, including where the strategy is to perform a 510 K submission.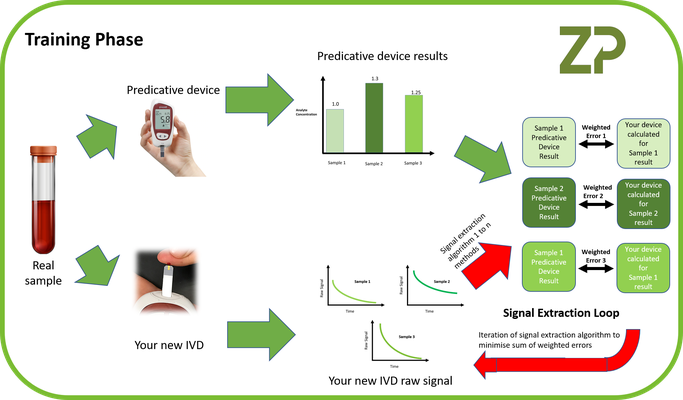 How to characterise a continuous glucose measuring sensor
At Zimmer and Peacock we have a number of biosensors suitable or adaptable for continuous monitoring, including: continuous glucose monitoring (CGM), continuous lactate monitoring (CLM), potassium monitoring, sodium monitoring, sweat monitoring and hydration monitoring. 
In these notes on our website we start a discussion on how ZP characterises such sensors, we specifically use the example of glucose, though the technique can be extended to other analytes.