Welcome to this week's newsletter from Zimmer and Peacock. This newsletter is a mixture of news, stories and tech notes from Zimmer and Peacock. If you want to subscribe to our newsletter or have any questions regarding Zimmer and Peacock and our passion for biosensor technologies please don't hesitate to contact us.
Thank you - Surface Modification for Chemical and Biochemical Sensing
Thank you to everyone who gave Pavel a warm welcome at SMCBS.
We were delighted to discuss that ZP is a fully committed partner for getting ideas and research to the market.
Please visit our website to explore our technologies and see our case-study of the ChilliPot.
We are a super friendly company so if you have any questions please don't hesitate to contact us.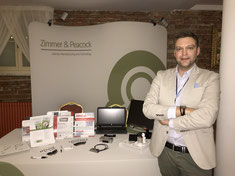 Blood filters on ZP Sensors
ZP has implemented blood filters directly onto our electrochemical biosensors.
In this image ZP has constructed a biosensor with a microfluidic channel and a filter for separating the red-blood cells from the sample to give a plasma like sample for the final detection.
Zimmer and Peacock performs contract development and manufacturing for other if you have a biosensor, sensor or medical diagnostic idea please feel free to contact us.