Welcome to this week's newsletter from Zimmer and Peacock. This newsletter is a mixture of news, stories and tech notes from Zimmer and Peacock. If you want to subscribe to our newsletter or have any questions regarding Zimmer and Peacock and our passion for biosensor technologies please don't hesitate to contact us.
Chilli Sensors - Video Demonstration of the ChilliPot - Scoville Meter
At Zimmer and Peacock we are deadly serious when we say we take our collaborators from ideas all the way to market.
In the video below we demonstrate the new ChilliPot - Scoville Meter for measuring the hotness of Chillies and Chilli Products.
USA - Thin film electrodes
Zimmer and Peacock are happy to announce that we are an official distributor for Micrux's thin film electrodes within the USA.
MicruX develops metal-based (micro)electrodes fabricated by thin-film technologies on a glass substrate. A SU-8 resin protective layer is used to delimit the electrochemical cell enabling the use of very small sample volume. As well, the SU-8 layer enables the integration of a microfluidic stage with the electrochemcial sensors.The electrochemical sensors show excelent features for electroanalytical applications, including the development of (bio)sensors.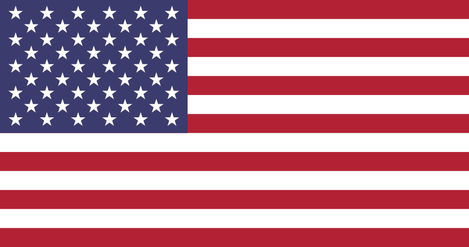 High technology and tradtional values - eating together everyday
The Zimmer and Peacock Norwegian team, without exception, has lunch together. Although our technology is cutting edge, our values are traditional.
The non-Norwegians in the team at first find this unusual, but in these modern days of very hectic business this simple tradition builds more team spirit than weeks of team building days out.
We are ready to turn your biosensor, medical diagnostics ideas and/or prototypes into manufactured products; please contact us with any questions.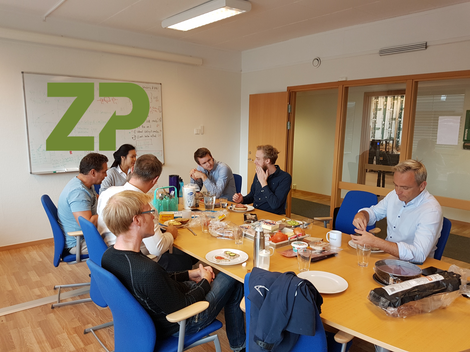 Sneak preview - biosensor integrated with flex circuit
At Zimmer and Peacock we understand that one of the next technology revolutions is sensors everywhere and so we have prepared for our partners needs by manufacturing a platform where the circuit and sensor are all on the same flex circuit.
This low profile, low cost biosensor platform lends itself to low cost sensor applications, wearable sensors, sensors on drones. If you have a need, an idea or an application for our new integrated biosensor flex circuit platform please don't hesitate to contact us at Zimmer and Peacock.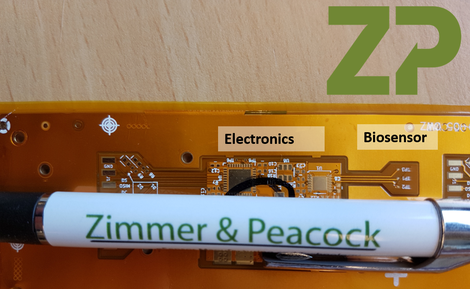 Biosensors mounted on drones
In this video Zimmer and Peacock has taken a fully integrated biosensor and flex circuit and combined it with a drone. What we are demonstrating is that the low weight and intrinsic robustness of electrochemical sensing technology allows us to attach the biosensors to the drone platform and send these sensors into the field.  Clearly there are many hazardous or in accessible situations where sending people is not feasible or simply uneconomical.  In this simple demonstration we show how the integrated sensor and flex circuit platform from Zimmer and Peacock allows sensors to be carried by drones and deployed in real-world situations.
Zimmer and Peacock has biosensors and analog electronics at the heart of who we are and what we do, if you have any questions don't hesitate to contact Zimmer and Peacock.
NHS England - Zimmer and Peacock
Zimmer and Peacock have been invited to speak at NHS England's Clinical Entrepreneur's Training Programme this Friday 22 September 2017.
Zimmer and Peacock will be talking about their experience in developing, and manufacturing medical diagnostics that are currently going through clinical trials, and also explaining that ZP is a rare company in that we invest in our customers.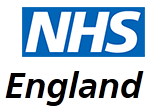 Biosensor - Printable Feature Size
Zimmer and Peacock were asked what printing techniques and what feature sizes we could print with when applying proteins and other biomaterials to bioMEMS and biosensor substrates, and so we have made this short note.
We have two primary printing techniques when applying biologically relevant films to bioMEMS, which are piezo digital printing and screen printing.
The droplet size for the piezo printing is 10 nL and above, whilst the screen printing has a resolution of approximately 200 micrometers, see design rules.
Sensors in Medicine - London - ZP Talk
Zimmer and Peacock will be presenting at Sensors in Medicine 2017 in London, please come and meet us there.
Zimmer and Peacock have a range of biosensor technologies for those wishing to develop or have manufactured their biosensor or medical diagnostic technologies; please don't hesitate to contact us to discuss our standard products or services developed for those wishing to commercialise their discoveries

Zimmer and Peacock distribute Essentim
Zimmer and Peacock are proud to support and distribute Essentim, the wireless sensing solution for labs.