Welcome to this week's newsletter from Zimmer and Peacock. This newsletter is a mixture of news, stories and tech notes from Zimmer and Peacock. If you want to subscribe to our newsletter or have any questions regarding Zimmer and Peacock and our passion for biosensor technologies please don't hesitate to contact us.
Electrical connectors for biosensors
At Zimmer and Peacock we have one of the largest ranges of electrical connectors for screen printed electrodes, click here to see our range.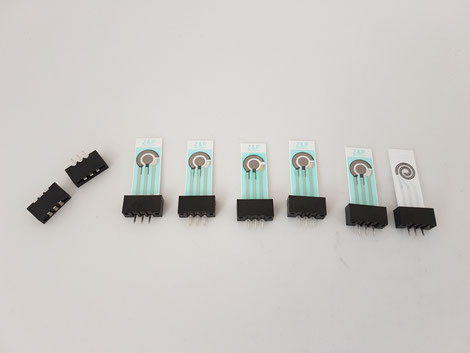 International Biotechnology Conference on Estate Crops
Zimmer and Peacock are delighted to promote the International Biotechnology Conference on Estate Crops. Zimmer and Peacock see biosensors as an integral part of the future of crop and estate management, and the biosensor developers kit is a first step to the development of biosensors for plantation management. Click here to find out more.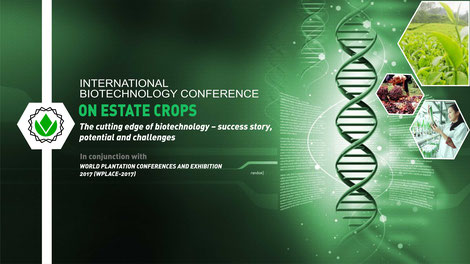 Optical detection by using Localised Surface Plasmon Resonance on Z&P SPE modified with gold nanoparticles!
In this work, we combine electrochemical and optical detection on Screen Printed Electrodes from Zimmer and Peacock. The electrodes were previously modified with gold nanoparticles of approximately 20 nm synthesised with the traditional Turkevich method. 
The modified SPE electrodes were characterised by Localised Surface Plasmon Resonance and presented a resonance peak expected for gold nanoparticles. The combination of these techniques allows the multiplexing detection of different biological analytes.
Zimmer and Peacock offers a broad range of SPE electrodes which can be customised and modified with various materials for numerous applications!
Please feel free to contact us for more information, as we are always happy to support our clients and collaborators. Visit our website for more information.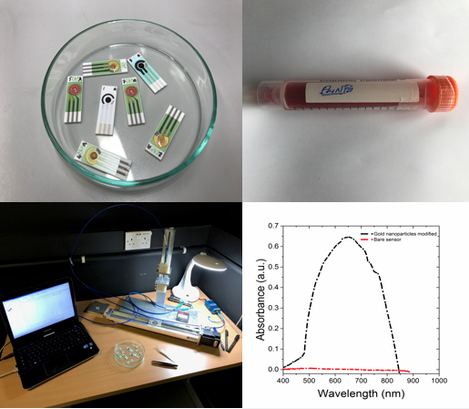 Zimmer and Peacock launch a range of Gold Nanoparticles for Electrochemical Biosensor Applications
At Zimmer and Peacock we appreciate that the coupling of screen-printed electrodes with gold nanoparticles results in assays which can have both better functionality and sensitivity. At Zimmer and Peacock we have a holistic view to the gold nanoparticle as we don't consider the gold nanoparticle in isolation, but rather we consider it in relationship to the assay you are developing, the linker you will require, and the electrochemistry necessary to read the assay.
Pacman - Zimmer and Peacock
One of Zimmer and Peacock's scientific advisers, Professor Erik Johannessen of USN, was recently in the popular media after constructing a live microfluidics version of Pacman.  
In Erik's version of the game, Pacman was a microbe chasing and eating other microbes around a microfluidic maze. Click the video below to see the live action.
At Zimmer and Peacock we utilise microfluidics as a means by which we get samples to biosensors for medical diagnostic applications; visit our website to see our standard products, services or to contact us.
Mechanically challenging Screen Printed Electrodes
In this video one of our trusted partner companies asked us to challenge our sensors by mechanically rubbing them with an eraser.  We ended up breaking the eraser, whilst the sensors were fine. It should be noted we do polish our electrodes with slurry as they are semi-reusable, see the button below.
Watch the video below to see how we chemically challenge our sensors.
Zimmer and Peacock - California
Zimmer and Peacock California were exhibiting today and talking about the business model of getting our clients to market as soon as possible, through the use of our standard products and our custom services.
If you have any questions of biosensor and medical diagnostics development in California please don't hesitate to contact us.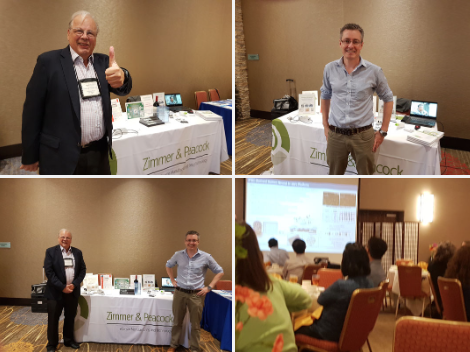 Zimmer and Peacock is attending the 68th Annual Meeting of International Society of Electrochemistry in Providence, Rhode Island, USA
Zimmer and Peacock will be attending the 68th Annual Meeting of International Society of Electrochemistry in Providence, Rhode Island, USA. We will be meeting with our partners Zahner and Admiral, so please meet us near their stand.
The main goal of this meeting is to measure the world around us more effectively, to evaluate the future needs and to drive advances in electroanalytical chemistry from many directions. New and optimized instrumental techniques and experimental trends that are aimed at filling gaps and addressing shortcomings in established methods have to be developed. These should enable convenient monitoring of newly identified analytes important to human and environmental health and will provide faster analyses in real complex media and harsh conditions. This symposium will highlight recent advances in all these areas of analytical electrochemistry.
Please contact us to arrange a meeting and to discuss any possible future business opportunities.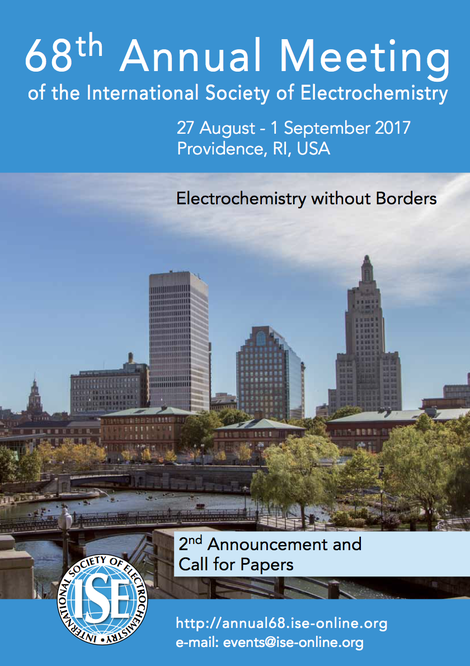 The opportunity to perform the microRNA detection with Zimmer and Peacock products
Zimmer and Peacock has a very productive team and recently our Technical Sales Manager Mr Pavel Zhurauski has published a scientific article in the Nature Scientific Report Journal on the microRNA detection; the work was performed during his recent studies on developing a  biosensors for clinical diagnostics. 
MicroRNAs (miRNAs) play a crucial regulatory roles in various human diseases, including cancer, making them promising biomarkers. However, given the low levels of miRNAs present in blood, their use as cancer biomarkers requires the development of simple and efficient analytical methods. Herein, we report the development of a highly sensitive dual mode electrochemical platform for the detection of microRNAs. The platform was developed using peptide nucleic acids as probes on gold electrode surfaces to capture target miRNAs. A simple amplification strategy using gold nanoparticles has been employed exploiting the inherent charges of the nucleic acids. Electrochemical impedance spectroscopy was used to monitor the changes in capacitance upon any binding event, without the need for any redox markers. By using thiolated ferrocene, a complementary detection mode on the same sensor was developed where the increasing peaks of ferrocene were recorded using square wave voltammetry with increasing miRNA concentration. This dual-mode approach allows detection of miRNA with a limit of detection of 0.37 fM and a wide dynamic range from 1 fM to 100 nM along with clear distinction from mismatched target miRNA sequences. The electrochemical platform developed can be easily expanded to other miRNA/DNA detection along with the development of microarray platforms.
The mentioned approach for the miRNA detection is supported by the Z&P Biosensors Development Kit on our high quality Screen Printed Electrodes. Please feel free to contact our team for further details about the products and the applications in biosensing.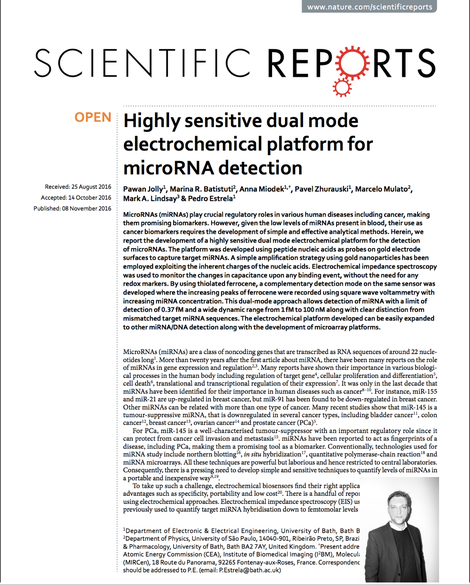 Zimmer and Peacock secures deal with Admiral Instruments
Zimmer and Peacock met with Admiral Instruments this week in Phoenix AZ, to sign-off on the distribution by ZP of Admiral's Squidstat range of potentiostats within the United Kingdom.
During the day ZP were able to operate the potentiostats and see what an intuitive and easy to use instrument the Squidstats were.
If you have any questions regarding Admiral and the Squidstat range of instruments please don't hesitate to contact us.