Welcome to this week's newsletter from Zimmer and Peacock. This newsletter is a mixture of news, stories and tech notes from Zimmer and Peacock. If you want to subscribe to our newsletter or have any questions regarding Zimmer and Peacock and our passion for biosensor technologies please don't hesitate to contact us.
Further examples of 3D printed parts for sensors and biosensors
At Zimmer and Peacock we understand that a sensor needs a way of getting the sample to the sensors, so we use and support our clients in the use of 3D printed fluidic parts for bringing the sample to the sensing element.
In this video we show two recent examples where our engineers, friends and collaborators have made 3D parts compatible with Zimmer and Peacock sensors.
Sensors Expo and Conference
Zimmer and Peacock have standard sensors and biosensors, we also provide contract development and manufacturing services for sensors and biosensors.
You can meet us in San Jose California from June 27 - 29 at the Sensors Expo and Conference. Visit our website to get in touch and meet us at the booth.

Optimising Sandwich Type Assays
Zimmer and Peacock are focused on biosensor development and manufacturing, which we do for our customers, clients and collaborators.
One of the most common types of assays we are asked to development and manufacturing are immuno-assays. In the image below we show a 'typical' immuno-assay, where a secondary antibody labelled with a reporter molecule/probe binds and gives a signal proportional to the analyte/antigen. Zimmer and Peacock supports this type of assay and the utilisation in DNA, RNA, protein and whole cell detection.  
We are often asked to implement the assay in a lower cost disposable cartridge assay. This requirement means that when Zimmer and Peacock are brought onto a program we often simplify the assay so that the client can have a lower cost of goods when going to market. Find out more on our website here.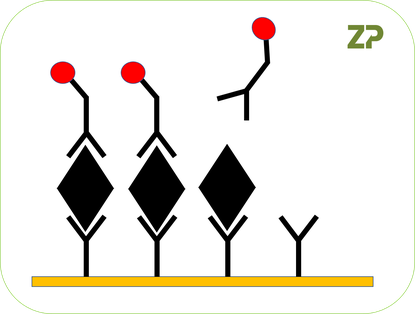 Biodetection and Biosensors 2017
Zimmer and Peacock are exhibiting at Biodetection and Biosensors 2017 in Cambridge UK on 10 - 11 October 2017.
We will be giving a workshop and presenting a poster, please contact us for discounted passes.