Welcome to this week's newsletter from Zimmer and Peacock. This newsletter is a mixture of news, stories and tech notes from Zimmer and Peacock. If you want to subscribe to our newsletter or have any questions regarding Zimmer and Peacock and our passion for biosensor technologies please don't hesitate to contact us.
American Diabetes Association - Scientific Sessions
Zimmer and Peacock are delighted to have been accepted as exhibitors at the ADA Scientific Sessions in San Diego CA in June 2017.
The Scientific Sessions offers researchers and health care professionals the unique opportunity to share ideas and learn about the significant advances in diabetes research, treatment, and care. Over the course of five days, participants will receive exclusive access to more than 3,000 original research presentations, take part in provocative and engaging exchanges with leading diabetes experts and expand professional networks with over 13,000 professional attendees from around the world.

Cambridge University and Zimmer and Peacock
The Cambridge University Electroanalytical Workshop received a mention in Sensors 100 April 2017 Newsletters.
Cambridge University, Zimmer and Peacock and CambEchem are hosting a workshop in Cambridge on Electroanalytical Chemistry, focused on anyone where electroanalytical chemistry is important to their understanding of the issues around their technology. Visit our website to find out more.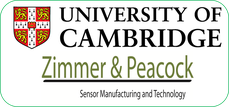 Resistance of a carbon electrode
At Zimmer and Peacock we take a pragmatic and realistic view on the solutions and technologies that we provide.  We understand that an electrode solution for one application won't necessary work in another.
We rely on our knowledge of science and engineering to determine the right solution to the problem.
In the video we have provided a chemically resistant  electrode system able to stand up to organic solvents, and as with most things there is a compromise when augmenting one property it can can be at the detriment to another property.
In the application under discussion in the video the resistance of the carbon is too high, and so we are going to try several different electrode configurations until we find the correct configuration of electrode material and electrode layout for the specific application.