Welcome to this week's newsletter from Zimmer and Peacock. This newsletter is a mixture of news, stories and tech notes from Zimmer and Peacock. If you want to subscribe to our newsletter or have any questions regarding Zimmer and Peacock and our passion for biosensor technologies please don't hesitate to contact us.
Zimmer and Peacock at MED-TECH INNOVATION EXPO 2017
Zimmer and Peacock, the leader in electrochemical manufacturing and services attended MED-TECH INNOVATION 2017 which is the UK and Ireland's leading medical technology event.
Med-Tech Innovation Expo 2017 brought together all stakeholders involved in the medical device innovation process. The exhibition showcased over 130 companies from the medical device supply chain alongside the centrepiece conference that delivers insights, intelligence and education through a wide range of expert speakers and participants.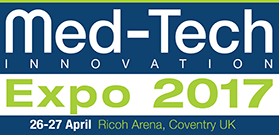 Zimmer and Peacock meeting New Business Partners
At Med-Tech Innovation EXPO 2017 in Coventry Zimmer and Peacock had a real pleasure to meet the new possible business partners: Promepla, Carville, Precision Converting Solutions, TUV SUD Ltd, Medical Engineers Ltd. We are growing fast and to expand our collaboration network is one of our priorities!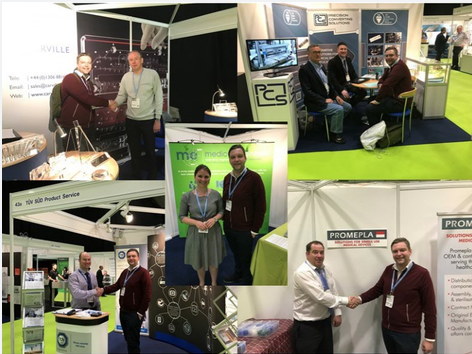 Zimmer and Peacock attending 5th International Conference on Bio-Sensing Technology
On 7th and 8th May we will be attending the International Conference on Bio-sensing Technology in Italy, organised by Elsevier. Bio-sensing technologies are of increasing importance in healthcare, agri-food, environmental and security sectors, and this is reflected in the continued growth of global markets for such technologies.
This conference will provide a forum for accessing the most up-to-date and authoritative knowledge from both commercial and academic worlds, sharing best practice in the field as well as learning about case studies of successfully integrated bio-sensing technologies. The meeting will provide an opportunity to highlight recent developments and to identify emerging and future areas of growth in this exciting field.

Carbene self-assembled monolayers - an alternative to traditional SAMs
Self-assembled monolayers (SAMs) are ubiquitous in biosensing and medical diagnostics, including products where the mode of detection  is electrochemical in nature.  The impact of SAMSs in electrochemical  sensors  has been more significant in the academic literature rather than in true mass produced sensing or diagnostic products.
The issue with SAMS in manufacturing  is  they can lead to products which are variable from manufacturing batch to manufacturing batch. The root problem with traditional SAMs is that they are very sensitive to three or more factors, including:
- The surface of the electrode
- The formulation used to apply the SAM precursor
- The environmental conditions in the manufacturing halls
Find out more on our website here.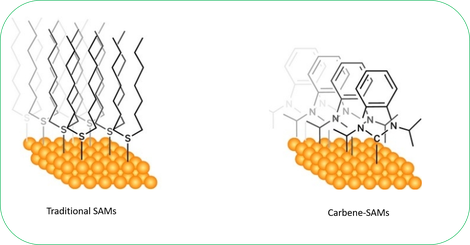 Screen printed electrodes proven to be resistant to organic solvents
Zimmer and Peacock have had their screen printed sensors independently tested to show that they are resistant to organic solvents, visit our website to find out more.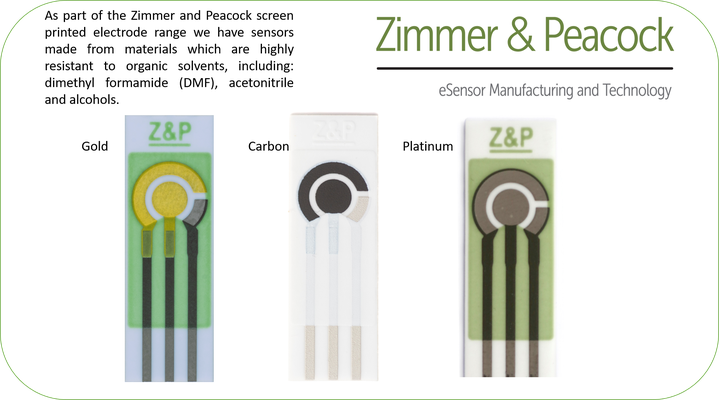 Features and benefits of the PECC-2 Cell
Zimmer and Peacock support the Zahner PECC-2 Cell for photoelectrochemical research. Recently we had an enquiry regarding features of the PECC-2 Cell; see our response below and visit our website to find out more. 
1. The cell is very easy to clean with water. Moreover, it is resistant to all the standard solvents.
2. The cell is waterproof, and it does not have any leak in the horizontal position (tested in different laboratories across the world). 
3. The cell is suitable for working, counter and reference electrodes. The necessary electrodes are provided in the package.
4. The cell is also provided with the degassing system.
Zimmer and Peacock attending VET Festival
Zimmer and Peacock are attending the VET festival on 9-10 June as part of our mission to bring diagnostics to animal health.
The VET Festival is Veterinary Education for Tomorrow. This innovative and fresh CPD weekend will bring state of the art knowledge that is clinically relevant to every veterinary practice and their staff. It is an annual event for the veterinary world to come together to network and learn with the best visionaries and thought leaders.